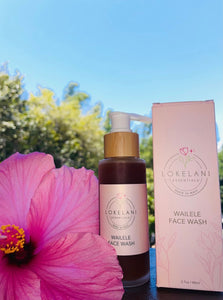 Lokelani Essentials Wailele Face Wash
Regular price $45.00 Sale
Lokelani Essentials - Wailele Face Wash
Our carefully designed face wash works to gently remove every trace of makeup, including sunscreen, without stripping your skin of its natural oils, leaving your skin radiant and hydrated.
We use rosehip powder which provides a delicate daily exfoliation while still being rich in fatty acids omega 3 and 6 in the form of GLA (gamma linolenic acid) which encourages tissue repair. Due to its high fat content, rosehip powder is used to help prevent premature aging skin by stimulating collagen production, increasing firmness and radiance. 
-----------------------------------------------------
CRUELTY FREE  
VEGAN/PARABEN FREE
SULFATE FREE
GLUTEN FREE
PHTHALATE FREE
SYNTHETIC FRAGRANCE FREE
MINERAL OIL FREE
FORMALDEHYDE FREE
PEG FREE
Ingredients:

○ Lokelani Rose essential oil - Supports cell and tissue regeneration and skin elasticity by reducing fine lines. 

○ Rosehips powder - Provides daily delicate exfoliation and helps to resurface the skin. 

○ Hawaiian Sandalwood - Cools and soothes inflamed skin. 

○ Frankincense - Rejuvenates and tones. 

○ Juniper berry - Amazing astringent /antiseptic properties; cleanses and invigorates the skin. 

○ Ylang Ylang - Used in folk medicine in the Far East to hydrate skin and give a more youthful complexion. 

○ Tea tree - Soothes skin irritations and is antibacterial and antifungal. 

○ Lavender - Calms the skin. 

○ Other ingredients - Water, Saponified Coconut oil, Glycerin, Hemp seed oil, Moringa Oil and Citric Acid.