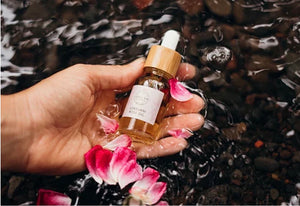 Lokelani Essentials Lokelani Rose Oil Blend
Regular price $80.00 Sale
Lokelani Essentials - Lokelani Rose oil blend
Lokelani Rose Oil Blend is made with 100% organic Lokelani rose essential oil, Evening Primrose oil, 3% Organic Moringa oil, and Fractionated Coconut Oil to give the perfect blend with maximum 
absorption. This magical blend supports cell and tissue regeneration, maintains skin elasticity and reduces the appearance of fine lines. Roses are known to be "good for the skin and the soul " Moringa Oil, which has been around for centuries but new to the general 
public, is being praised by the cosmetic industry as an all-around wonder oil. Moringa seed oil is rich in skin healthy nutrients like vitamin A which aids in the formation of collagen in the skin, vitamin C which helps to reduce fine lines and wrinkles, and Vitamin E which 
makes it an anti-inflammatory and healing oil as well. It also contains 72% oleic acid which causes it to act as a skin barrier, sealing in hydration and protecting the skin from the environment. Moringa oil is similar to the natural oil our skin produces making it the perfect 
choice to balance and nourish your skin. 
Evening Primrose oil, sometimes called the "night willow oil" is a gentle carrier oil that soothes and moisturizes the skin. It is packed full of gamma-linolenic acid (GLA) which is an omega-6 fatty acid that reduces inflammation and improves elasticity. Evening Primrose oil 
has been shown to combat dryness, roughness and other skin irritations such as eczema and psoriasis, leaving you with flawless, youthful looking skin. 
Fractionated Coconut oil is an all-natural carrier oil that readily absorbs into the skin, promoting optimal topical delivery and leaving the skin feeling smooth and soft without clogging your pores. 
Feel the love in every drop!
-----------------------------------------------------
CRUELTY FREE  
VEGAN/PARABEN FREE
SULFATE FREE
GLUTEN FREE
PHTHALATE FREE
SYNTHETIC FRAGRANCE FREE
MINERAL OIL FREE
FORMALDEHYDE FREE
PEG FREE
Ingredients

All organic Lokelani Rose essential oil, Moringa oil, Evening Primrose oil and Fractionated Coconut oil.

0.5oz/15ml